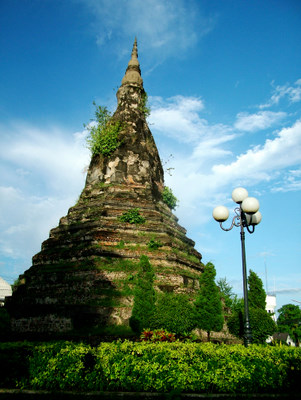 I have just clicked "Purchase Tickets" and am now officially nervous and excited at once. I now have an email in my inbox, from Emirates, containing some e-tickets and an itinerary.

I worked too much last year; In fact, I worked way too much last year. I took the last two of weeks off in December 2008, through till the last week of January and I still have too many days leave owing to make work happy.
With pressure mounting to take some leave before we get busy again, I started looking at what I could do. I didn't want to stay at home - it is winter here in New Zealand and I just don't handle cold and damp at all well. I decided to look further afield.
Thailand was looking pretty good until I talked to my Brother-in-law and Sister-in-law. They know I have been to Thailand a couple of times before (and that I fell in love with it) and they suggested Laos as an alternative (-fishing line cast out). Then they spent the next three hours telling me about their visit to Laos and showed me their beautiful photos. (-Bait tested)
I agonised over a week or so before deciding to go to Laos. I built up my supporting evidence: I have saved a few dollars, I'm a little jaded and need a holiday, I have plenty of airpoints with Emirates (who fly from New Zealand to Bangkok), I can see some of Thailand and do some shopping on my way to/from Laos. (-Bait nibbled)
Today I logged into my Emirates account and spent 30 minutes arranging dates to give myself three weeks away, flying from Christchurch (NZ) into and out of Bangkok, before commiting NZ$50- and 52,000 air miles. (-bait taken, hook, line and sinker!)
So, now I am nervous and excited. Where do I go? How long do I stay in Thailand enroute to Laos and then on the way home? I will be on my own for this trip, so that adds a little to the nervousness, but it does leave plenty of room for flexibility!
I'm preparing to travel extra light - one pack and a small carry-on/daypack, so I have brought myself a netbook - a mini laptop. I went for the Asus eeePC 100HE it has a battery that is supposed to last 9 hrs. If it lasts 6 I will be happy. So, I can blog on the move and store my numerous photos as well, without having to carry disks etc... Yay!

It is now time to read voraciously about Laos and start the planning phase. (-Looking for a little more bait!)

----Acknowledgement----
Black Pagoda - Vientiane photgraph is used courtesy of GraffixMarsFear@gmail.com/Theera Chimpalee
Thank-you