"60% Buddhist, 40% animist and spirit cults"
- quote from www.Biking-Laos.com.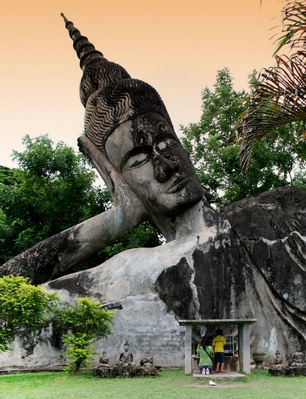 I stumble out of the bar with the monsoon rain instantly turning into puffs of steam as it hits my chilli-rich, laab-fired, super-heated body. The 2 beer Laos' I gulped down with the laab has the effect of warping time and space on the jog back to the hotel. Where am I? Read on to find out.

Day 1 - Arrival - Bangkok - Vientiane

Rubbing my eyes, I get out of bed and zombie-walk into the shower; Three hours sleep wasn't enough but I only have a small window from my arrival in Bangkok until my domestic flight to Udon Thani in north eastern Thailand. I check out of the expensive hotel and go through the normal procedures - taxi to the airport, check my baggage, board the aeroplane and after an hour, I'm in a full minivan heading to the Thai-Laos Friendship Bridge border crossing.
Getting a Laos visa takes about 15 minutes (surprisingly easy) and going through immigration is easy. The taxi to Vientiane costs 300 Thai Baht, around NZ$15, and takes about 40 minutes to get me to the Hotel Laos.
Food is very affordable: BBQ chicken(ping gai) with serving of Sticky rice and some Makphet ("Mac-pet", a mixture of crushed green chillies and vegies) came to 8,000Kip (around NZ$1-30) Wow!
Back to the hotel for a Nana nap. The heat is a bit oppressive to my non-acclimatised body - around 29 DegC and with the humidity around 75%.I stumble and fall into my hotel room; I'm thoroughly soaked with sweat, have a full stomach - with my mouth on fire and I'm as tired as hell. What's not to like about Vientiane?
After my afternoon snooze, I go for as stroll around to get the lie of the land.
Vientiane reminds me, most of all, of Chiang Mai in Thailand; Vientiane has a small town feel, even though it is reasonably large. Everyone I bump into seems to be very laid back and there is definitely no "hard sell" for anything. Very relaxing.
Again, I head back to the Hotel Lao for a shower, a rest and a change of clothes and then back out to find something for tea. I walk down to the riverside area (the river, being the Mekong river) and grab a legendary Beer Lao, the local brew. Beer Lao is available everywhere for around US$1 (or 8,000 to 10,000 Kip for an 860ml bottle) and it slides down quickly because I'm watching a spectacular lighting storm on the opposite side of the river, in Thailand. There is no doubt that that storm is heading this way, it's just a matter of minutes - I gulp down the last drops of my beer as I see all the stallholders frantically packing up their portable restaurants.
I scarper to a nearby restaurant/bar, the Ban Lao, and order a serving of Laab Gai, a minced chicken salad (only cooked these days due to modern, western squeamishness) and ask for it to be spicy. The manager smiles - I think she is used to falang (foreigners) only ordering mild laab. The laab arrives with some sticky rice and boy is it HOT! It is delicious with basil, mint, chillies mixed through the minced chicken and a splash of fish sauce and lime, but it is making me work hard to eat it! I gulp down another beer Lao in record time to provide some cooling. Phew! I notice a local tour guide on the next table eating laab as well and I don't feel so bad because she's panting and wiping sweat from her face with a serviette. It is hot - even for the locals!
I stumble out of the bar with the monsoon rain instantly turning into puffs of steam as it hits my chilli-rich, laab-fired, super-heated body. The 2 beer Laos' I gulped down with the laab has the effect of warping time and space on the splashy jog to the hotel.
Day 2 - Vientiane
I have a good lie in until 7:15, before heading down for breakfast, a bread roll and fruit with a cup of tea - I want to let my cauterised internals recover a little before I start exploring again. Today I'm going to Xieng Khuan (a Buddha park), Pha That Luang, the "most important national monument in Laos" according to Lonely Planet, and Patuxai a Laos-alike of the Arc de Triomphe.
While walking down the street, looking for a Tuk tuk, I get hailed by one! There is a standard price for each of the tourist sights and I can go to the three I want for 195,000 Kip (or around US$24) that doesn't seem too expensive when Xieng Khuan is 24km south of Vientiane, along the Mekong river, while the other two are in Vientiane.

Xiang Vieng
Xiang Vieng is a Buddha Park - literally a park populated with dozens of statues of Buddha and Hindu Gods. It is said that genius and madness are not too far apart and Xiang Vieng is a certainly a candidate. The statues and sculptures are packed into a small space and become overwhelming and give me the impression of an obsessive compulsive personality at work. Well worth and hour strolling around - one of the sculptures is large enough to climb inside (through and open mouth), up 3 levels of stairs to clamber on top of it.

Pha That Luang
Is very important to the Laos people as is is both a symbol of Laos sovereignty and is also a Buddhist symobol (and temple). After a good look around, I buy a couple of soft drinks - one for me and one for Ton, my Tuk tuk driver.

Patuxai

"At the northeastern end of LaneXang Ave.
It is the Patuxay or Victory Gate of Vientiane,
Built in 1962 (B.E 2505), but never complete due to the country's turbulent history. From a closer distance it appears less impressive, like a monster of concrete."
A sign on the inside of the Patuxai:


Onwards
Tonight after a meal of Pad Thai (Thai fried noodles) I realise that I really have top plan this trip - I'm going to miss some of the things I want to see if I don't start moving. I'll have another day here in Vientiane to relax and recharge a little then I plan to visit (hopefully in this order) the following towns:
Vang Vieng - back packer haven and river tubing, rock climbing and limestone karst scenic area.
Luang Prabang - World heritage historic city, exotic temples, hopefully time for a cooking class.
Paske - in the southern province of Champasak, I hope to hire a motorbike for a few days to explore and maybe spot some elephants.
Champasak - vist the nearby Wat Phu a Khmer temple copmplex similar to Angkor Wat in Cambodia (but smaller)
Bangkok - aahhh the city of contrasting extremes.
Take care,
Dale/Boris