Hi All,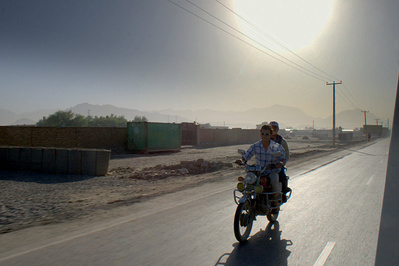 Yes I know this is incredibly late. [ about four months really, but that's applied laziness for you! ] OK, I know I have a poor record for writing my "Homeward Bound" postings and this is no exception! When the wheels start rolling to bring me home, I get caught up in the excitement and just hang on.
Also, it's rarely as exciting as the adrenaline rush of going somewhere, so homeward bound postings get neglected. This time I'm on my way to my next adventure, so I have to finish the "No Sleep Till Kabul" postings first!
Sorry.
On with the story - as you remember, we had been in Kabul, working at the Kabul International Airport, working ridiculous hours, staying at the Park Palace Hotel.
How do I describe our last day in Kabul? Well, we have a late start today. No "O-dark-hundred" wake ups for us. No! We start work at 1030 today (bear in mind that when I say "today", I'm travelling back in time 4 months. Erk!). What joy!
We get ourselves to the airport, with crew, luggage, equipment and (Thank-you Park Palace Hotel) lunch. Made at the last minute by the miracle-working kitchen.
Richard and I test the final navigational aid in a fast, smoothly coordinated, dusty effort; Watching Blackhawks, chinooks,C130 Hercules, MI-8 heli's and many other aircraft take off or land in between our aircraft passes. The Chinooks are just amazing. Noisy and huge. A plane spotters dream day.
Our departure is pretty uneventful - we slip through customs with barely a glance and have a normal take off - I guess that says that Kabul is a lot safer than the southern airports. We land in Fujairah and decide to drive north up the coast to see if we can find a nice place to stay. There has got to be some reward for working like slave and we've earned it.
JAL Fujairah Resort outside the small town of Dibba is where we end up. The place is a palace. It must be a 5 star [It turns out to be!]. Beautiful. Good for a couple of days for me! We soak up the swimming pool, Tiger Beers, huge included breakfasts, sun drenched Arabian sea beach and sumptuous rooms like depleted vampires. I drive into town and grab some Shawarmas and eat them, with chips and 7-up, in the bath, watching TV. Bliss. I'll get the Tiger Beers tomorrow! [I know you're thinking I'm a slob now!]
To quote from JAL Fujairah Resort website:
Hotel JAL Fujairah Resort & Spa delivers unparalleled level of guest service and individual attention for the discerning international traveler. Located just 90 minutes from the dynamic city of Dubai, between the Hajjar Mountains and the ocean, and only 40 minutes from Fujairah city. Set on more than 500 meters of private beach, all guest rooms and suites are spacious, and offer uninterrupted views over the azure waters of the ocean.
So now you know.
I am officially a discerning international traveler. Fwoar crikey!
My room is soooo good! I usually stay in backpackers or guest houses if I'm on my own, but after dusty Kabul, with no exploring, I need something more and this is it! Tasteful luxury.
The travel home is pretty uneventful excluding a day in Singapore, between flights (which I recommend to anyone) so I'll just mention a couple of minor snippets:
If you go to the UAE, get out of Dubai, have a look around the place. I drove through the desert between Dubai and Fujairah a few times, a distance of about 90kms or so, through desert and the mountains. I was fascinated by the desert each time. I stopped at dusk and went for a walk, barefoot though the dunes. The fine, orange sand was soft and, like the Saharan sand, perfectly dry. I didn't have to go far before I couldn't hear the highway and I felt completely isolated in the silence. Very zen. Dubai is just a city but outside the city is wild, harsh and a complete contrast. Easy to drive through, but worth the minor delay to have a closer look.
One night in Kabul, we drank a few beers in a restaurant (as you do), ate our delicious meal, drank some more and then feeling the pressure, head out to the toilets, all seemed above-board so I lined up at the urinal and midway through my assault, I noticed that my sneakers feel warm. And wet. My consciousness drags itself reluctantly back to the surface through too many beers. Ahhh yes, despite my aim being true I was struck by the curse of the urinal with a disconnected outflow. GRRR. Quite funny looking back at it four months later, not quite so at the time.
Enough said, I think!
Take care out there and watch out for the next installment ins a couple of days.
Cheers,
Dale/BoriS