Hi Again,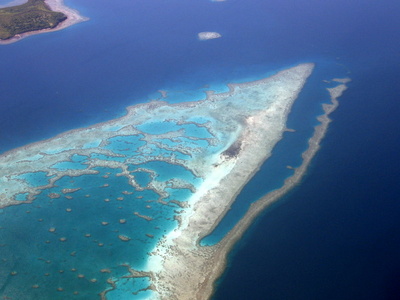 more of the [late] Fiji newsletter:

Because we had started a day early - we had the unimaginable treat of a day off on Wednesday! What to do? Carole, a keen diver (her whole family dive!) Gave me some encouragement and we booked in for a morning's diving - a trial dive for me, as I've never tried SCUBA diving before. We booked with a nearby dive company, Aqua Blue (Website http://www.aquabluefiji.com/) a regular visit for Carole, who is well known to the staff - in fact, I got lucky and had Cookie, a huge Fijian, as my instructor - he taught Carole's daughters how to dive and was hard-case. We went though a quick lesson on hand signals, what to dive if you lose your regulator, run out of air, have ear problems (due to pressure) and so on, and then a dip in the pool to practice.

Carole had asked to go to her favourite dive spot, "The fish market", but because the others on the dive boat had dived there yesterday, we went to a spot called Tavarua instead. Cookie, Sulu (the other dive master) and Ron, the boat captain, got the Carole and the others set-up and into the water, then Cookie got me sorted and into the water we went. I was just about walking on water, I was so excited that as I was paddling along on the surface, to the anchor rope (to use as a guide to go down) that I was just about walking on water!

We descended slowly, hanging onto the rope and I cleared my ears about for every foot of descent, just to prevent any discomfort. It was also a great time to settle down and get used to breathing throught the regulator, refresh my memory on the hand signals and procedures if I had any problems. The water was a beautiful deep navy blue colour - not the turquoise blue I was expecting, and it was as clear as gin. As we got closer to the coral reef below I could make out more and more of the brightly coloured fish that lived in and on the reef, Cookie looking at me, adjusting my buoyancy and giving me the OK signal regularly to make sure I wasn't panicking or having any problems.

Once down to 12 metres (the deepest I was allowed to go on a trial dive) we paddled slowly slong the edge of the reef - I was amazed by the sheer volume and variety of the sea life - clown fish, neon yellow flute fish (guess what they look like!) lion fish, shrimp, anenomies (I could write a whole page on anenomies! amazing ) about 20 different kinds of coral, soft, hard and even some ghost coral, which changed colour instantly, from pink with tiny red spots to ivory white, when Cookie touched it; We even saw a stone fish - they are poisonous and easy to stand on or touch accidentally because they look just like coral - I have no idea how Cookie saw it to show me. I was down for 36 minutes altogether and I am still blown away how beautiful the whole experience was - I guess I will be heading back to Fiji to take a dive course in the near future... Thanks to Carole T, Richard T, Carole D, Finchy and all those others who have encouraged me to give diving a go - what a blast!

Because I was a learner and flying the next day, I could only have one dive so I made sure I had a snorkel in my gear bag and when the others were dropped off on Tavarua wall, further along the reef, I jumped in as well and spent 50 minutes paddling around on the surface (with the odd dive down) just looking at shallow coral and fish. Great fun, but not quite as spectacular or relaxing as the diving. I had a fantastic "zen moment"; I managed to slowly paddle my way into the middle of a huge school of fish and stayed absolutely still, breathing quietly though my snorkel, completely surrounded by the school - this lasted for about 5 minutes. When the others surfaced after their dive, Cookie paddle over to me and asked - "Hey did you see the Leopard shark over there?"
"No, where is it?" I asked looking around under water.
"Come, I'll show you."
"COOL!"

Cookie dived down again and I followed on the surface, above him, he pointed toward the bottom and I could see the shark, about 5 or 6 foot long, a brown and charcoal spotted, just lying there. Cookie swam up to it and it lazily moved away. Back on the boat he told me that they are harmless and only eat tiny fish and shrimp. Pretty cool though, seeing a shark up close!

After the dive, Carol and I headed back to the same beach restaurant as the day before and ordered chicken fried rice, with lots of chilli this time - just what we needed to refresh ourselves! Then a quick visit to show me Nadi Town, a small strip of large shops and restaurants, then we took the scenic route back to our hotel, the Tokatoka Resort (just opposite the airport), to get showered and changed, ready to go to dinner at Wayne and Deborah's house.
Dinner didn't start well at all; while we were having a few laughs and some pre-dinner drinks on the patio, I looked into the kitchen and noticed some movement inside. I said to Wayne "Who's that in your kitchen mate?"
"What?"

We all jumped up and raced in only to find that the cockiest burglar in Nadi had jumped the fence, sneaked inside and rifled the drawers in the dining room and scarpered with Carole and Deborah's purses and cell phones and Wayne's wallet!! The cheeky bugger!!

We raced outside and scoured the area, but no joy, he had shown a clean pair of heels and disappeared - the local police seemed to have a fairly good idea who would be behind it - hopefully the stuff will turn up! That really put a dampener on the night - God help the thief if we had caught him! I think Wayne would have given him a serious learnin'! God alone knows what would have happened if Deborah had got hold of him ...

That said, as far as I can make out, theft from houses seems relatively common in Fiji, but not muggings or anything like that.

On the upside, I found Fiji to really be the land of smiles, happy, friendly people always ready for a laugh. What a great place! I would recommend Fiji as a fantastic holiday destination for just about anyone. Next time I will be eating more curry, samosas etc and hopefully taking a dive course. Most of all, don't believe everything you see on TV - the evening news is just another reality TV show as far as I can make out from my visits to Iraq, Jordan, Libya, Fiji, East Timor, etc.

Awesome stuff!!

Anyway, I will upload this to the website - http://www.vonchilliman.com/ in the near future - as well as start on my up-and-coming Jordan adventures.

Cheers,
Dale