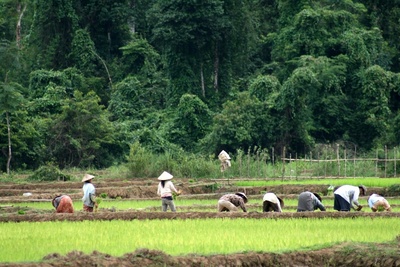 I stand up on the pedals and use all of my weight to push them down, struggling to start and make it up the small hill. The rear tyre alternates between gripping and slipping. the slippery red mud track is not making it any easier. Bang! Sproing! Suddenly the pedals are free-wheeling and don't drive the wheel any more and I just manage to stop myself from crunching into the bar. Damn, the rear gear derallier has completely come off the axle. It looks tricky to fix without tools...

Vang Vieng
The three hour bus ride north from Vientiane to Vang Vieng doesn't feel like it takes too long, I'm a little sleepy due to the heat and noise of the old bus but the countryside slipping by is too good to miss; Villages, jungle, shacks, rice paddies, shacks, rice paddies, jungle and people going about their everyday lives. I resist sleep to keep looking out the window.
We pull into Vang Vieng and de-bus, there are two touts trying to encourage the punters to their guest houses. In Lao fashion, they aren't trying too hard - they are friendly and not at all pushy. Nice.

Friends in Every Bar
Vang Vieng is a funny place. I stroll around the town - an over the top collection of restaurants (largely serving the same menus), guesthouses, bars and a few tour companies and internet cafes sprinked about. The Lonely Planet entry for Vang Vieng says to be prepared for endless reruns of Friends in the TV Bars. I thought they were joking. Nearly all of the bars have large TV's and all, execpt one, are playing Friends! (The other bar is playing the Simpsons) Each bar has about a dozen people lying down, watching the TV. I stroll around becoming more disheartened with Vang Vieng town, it has been over commercialised and ruined - it could be any backpacker haven in Asia, the unique local character of Vang Vieng town looks to have been erased.
Vang Vieng town looks to be party central after sundown. There are so many bars, some with hammocks! The Bamboo guesthouse has bungalows right beside the Bamboo bar! I guess if you stay there you aren't there to sleep. Also, given that the bars surrounding the Bamboo play loud music till about 5:00 am you definitely wouldn't sleep there!
It's not all doom and gloom though; The good thing is that the local area around Vang Vieng is breathtakingly beautiful with rice paddies, the Nam Som river and limestone kharsts looking to be largely untouched by the influx of backpackers. There are plenty of opportunities to hike and explore.

Sweet Home Vang Vieng - Maylyn Guesthouse
My base for the next few days is the Maylyn Guesthouse. It is on the other side of the river to Vang Vieng town and is very quiet, has a garden full of butterflies and friendly staff. I'm staying in a bungalow (A small hut on stilts) with bed, a fan, a mosquito net and an attached bathroom! It's clean and in a fantastic setting, I couldn't ask for more here in Vang Vieng. They also hire mountain bikes and motors bikes which opens the options for exploring too.


Dinner at Maylyn is a delicious chicken curry, washed down with a Beer Lao. While eating I talk to Joe, who turns out to be the owner of the guesthouse and we are joined by Martine(Belgian) and Anika(Dutch) who have been talking together in Dutch but switch to English to join the conversation. Martine is leaving for Luang Prabang tomorrow but Anika is here for another couple of days and keen to go mountain biking tomorrow and look at some caves and pools.

Bikes, Caves and A Blue Pool
Breakfast is a banana pancake and a cup of tea at the guesthouse. Our bikes arrive and we set off, armed with not much more than just our camera gear. Barely 100 metres from our starting point, we stop to take photos of local villagers working in the rice paddies. I learn very quickly that Anika likes to stop and take photos of everything, like me, which means that we stop a lot and that it isn't a problem for either of us. A good combination. We chat and photograph and cycle along the bumpy unpaved road; It's quiet but we see some other traffic - scooters, motor bikes, people walking.
It seems that around every corner is a sign pointing towards a "Buddha cave" and a pool for swimming. We cycle past several until we see one advertising a Blue Pool as well as a cave, mistaking it for the Blue Lagoon we take the turn off, arriving shortly at the ticket hut, located at the base of a small hill. We pay our 5,000 Kip each and head up the hill on our bikes.
I stand up on the pedals and use all of my weight to push them down, struggling to start and make it up the small hill. The rear tyre alternates between gripping and slipping; the slippery red mud track is not making it any easier. Bang! Sproing! Suddlenly the pedals are freewheeling and don't drive the wheel any more and I just manage to stop myself from crunching into the bar. Damn! The rear gear derallier has completely come off the axle.
It looks tricky to fix without tools but I do my best to untangle and route the chain, refit the derallier and tighten the axle nut with my fingers. Now I will have to take it very easy until I can find a spanner to tighten the axle nut properly. I push the bike up the hill to meet Anika and gingerly pedal along the level ground, expecting the derallier to fail at any time.
We get to the base of a Kharst and follow a young, mute Hmong guide up a steep path up into a cave - have a bit of a look around inside, it's hard to see much with my small torch, then back down to the blue pool below. The water is cool and very refreshing, we try and swim against the current and splash around for about half an hour.




We continue riding up the road and find a repair shop where the mechanic is happy to tighten my axle nut, so I can pedal properly again. I cycle on, a little more confidently. It's rice planting time and the paddies have teams of people planting out young rice seedlings, up to their knees in mud. It looks like very hard work but they are joking and talking together while they work. More photos.
As we look over the fence at one team pulling up tice seedlings, they wave at us to come in and try for ourselves. We Pull up some rice, much more slowly than the others (falang are slow and hopeless - they laugh at us!) and listen to their banter - they make a long, hard day seem shorter for themselves by joking and chatting while they work. One guys periodically shrieks and runs and dives to catch frogs hopping around - I guess they will be in the pot for dinner tonight. After a few photos, it's time to move on again. We cycle and photograph until we run out of afternoon and then cycle back to Maylyn to shower, relax and enjoy a Beer Lao and another good meal. I have the Laab and sticky rice, the portions are large and delicious. Excellent quality and value for money.

Relaxing? What is that?
I don't have any plans this morning, so I sit in the restaurant at Maylyn, drinking tea and get chatting to Joe again, he shows me around the gardens and grounds and I spend the morning chatting and relaxing until a group cruise through to head out tubing. I grab my togs and stroll up to town as well.
I don't have anyone to tube with but get talking to two girls, Marlous and Patty, in the ride out to the start point. They are Dutch and taking a long holiday after graduating. The start point for tubing is a car park and a couple of large bars beside the river. The nearest bar is absolutely heaving with people and a massive party is going on. What a great start! We decide to skip the first bar and hit the river. There are plenty of bars on the river, catering to thirsty tubers. Each bar seems to have some attraction, most have incredibly high, shaky looking swings into the river, one has a flying fox and one has a mud-pit.
We alternate between floating down the river teasing Patty, who seems to always have the slowest tube and sitting in bars, drinking buckets of Lao vodka, redbull and coke. It is hellishly good fun and not at all like tubing down the Pohangina river at home! By the end, we're getting cold and it's raining on and off, so we make our way down to the end point and return our tubes. We meet up for dinner later, but we're all a bit tired out from a day tubing and boozing to stay out too late. Hopefully we'll catch up in Luang Prabang.

Exploring By Car
The next morning while eating breakfast at Maylyn, Anika's friends, Rik and Rio (with their son
Ebel) invite me to join them all going for a scenic drive back along the same road Anika and I cycled. Rik, Rio and Ebel live and work in Vientiane and first visited Vang Vieng 15 years ago when it was a very different place. We stop regularly to take photos and stop in a Hmong village to follow a path to climb to the top of one of the kharsts (a kharst is a limeston out. We are led to the top by two local guides, aged around 10 years old, and when we finally get to the top we find a sala (a shelter comprising of a platform and a roof, without walls) so we take more photos of the stunning view of rice paddies, kharsts and even the pool we swam in yesterday, before turning around and heading back down the steep, slippery path.




Rik, Rio and Ebel have to drive back to Vientiane soon, so after a few more photo stops, a swim for Rik and Ebel in the river and a fine lunch at a Scandinavian bakery we say our goodbyes and wander back to Maylyn looking in all of the small shops on the way back.

Organic Mulberry Farm
Anika has read that the Organic Mulberry Farm(OMF) serves dinner so we decide, over a Beer Lao, to catch a tuk tuk 4km out of Vang Vieng to give it a try. We arrive at 8:00 pm, which turns out to be a little later than usual - the kitchen has almost shut - so we order while talking to a Kiwi couple Gretchen and Costa. The food arrives and is really delicious, all made from produce from the OMF. With a lot of "ooh's" and "mmm's" we work out way through the meals, washed down with a glass of mulberry wine - very much like a tart port. Our conversation flows really well and at about 10:00 we realise there is only one staff member left, so we catch a tuk tuk back to town and have a good laugh walking back to Maylyn in the heavy rain, sharing Anika's umbrella.

Onward to Luang Prabang
If anyone is planning to visit Vang Vieng and is looking to relax somewhere nice and quiet (away from the party zone in town, I wholeheartedly recommend staying at the Maylyn guesthouse. The rooms are excellent value, quiet and clean; the restaurant serves excellent food (in large portions) and Joe, who has been living in Vang Vieng for nine years has a wealth of knowledge of the local area and is well worth talking to - buy one of his excellent maps and go and explore.
Sadly, it's time to move on and as Anika is checking out on the same day, we decide to minu-bus to Luang Prabang together. It looks to be a 5 to 9 hour trip (depending on who you ask and probably the weather, road condition and state of repair of the bus) over windy mountain roads.
Till next time.

Take care,
Dale/BoriS