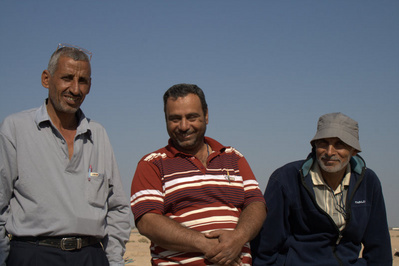 I step outside the Antonov 24 and briefly stand on the steps looking at the familiar sight of the Baghdad International Airport terminal. The apron around our aircraft is empty, it looks like we're the only ones here - not many aircraft crews overnight in Baghdad! It's 7 PM and we will be staying overnight in the only hotel in the secure airport zone in Baghdad. Tomorrow we have a flight calibration job in the holy city of Najaf.

As per usual we spend a fair bit of time waiting. Waiting for our local fixer and waiting for fuel. Waiting, waiting waiting. The waiting lasts two hours in the end; we pay our ground handling fees twice - once to Iraqi Airlines (the thieving hounds!) and then another lot to Iraqi Civil Aviation (the correct people to pay); apparently this is a common scam in Baghdad according to the ICAA (Iraqi Civil Aviation Authority). While we wait in the dark beside the aircraft, I drop my torch and the batteries go flying. During the search, crawling around "looking" for them, I find a small, jagged, thumb sized, piece of shrapnel! Cool! One souvenir already! I guess that explains the scars on the concrete from mortars.

Eventually, thanks to some help from the friendly gentlemen in Iraqi customs, our fixer is located and we are taken to the Satco hotel, as I mentioned earlier, the only hotel within the secure airport zone. The Satco hotel turns out to be a series of porta-cabins, including accommodation, a dining hall and a kitchen. The rooms could best be described as "simple and functional" - they were well used, a bit worn out but OK. I'll leave the rest to your imagination -- I didn't have any problem with the rooms - they were clean enough, safe and there was hot and cold running water. A couple of beers with the steaks for dinner and we were ready for sleep.

Waking before dawn has it's advantages - I got to go outside and take a few photos of the dawn and spotted one of the two blimps that are tethered above Baghdad - I guess they're fitted with surveillance and communications equipment. Waking up and seeing Baghdad at dawn dragged up memories from 11 years ago, from my first visit here working for the UN. It still feels a bit like a familiar home. Anyway with the clock ticking, we manage to get a ride back to the airport terminal and find our way through customs back out to our Antonov and before long, we're airborne for the short hop south to Najaf.






I did a bit of reading on Najaf before leaving the United Arab Emirates; in a nutshell:

Najaf is a holy city - one of the most holy places for Shi'ite Muslims.
The reason Najaf is a holy place is because the founder of the Shi'ite sect of Islam, 'Ali (who was the nephew of the Prophet Mohammed - the founder of Islam) was killed in battle in Najaf during fighting against followers of the Sunni sect of Islam.
'Ali's body was interred in a tomb and a shrine built over the tomb is called the Imam 'Ali shrine - a very holy place.
Between the Imam 'Ali shrine and the tomb of 'Ali's son is an area that is the largest cemetery in the world, "Wadi As-Salaam" (the valley of peace) and it is said that if your body is buried in this cemetery you are guaranteed a place in heaven.
After the last Gulf war, Najaf and the surrounding cities were host to the Mehdi army, an army of the supporters of Moqtada Al-Saada and they were engaged in some incredibly heavy fighting against coalition forces up until 2007
Since the fighting in 2007, Najaf has become a reasonably peaceful place.
Najaf is quite run down - roads, buildings, infrastructure, everything - it looks like a city that has been neglected for 20 years. The reason? When Saddam Hussein was President of Iraq, he quashed an uprising by Shi'ites in Najaf after the first Gulf war and then reduced funding to Najaf as punishment.

We land at Najaf International airport - it is still under construction, but looks pretty good already - there isn't much security visible from inside the airfield, which is reassuring. We are greeted almost like celebrities as we climb out of the Antonov, smiling faces and a lot of handshaking. What a great start! I gravitate towards a couple of guys I have worked with before and within seconds we are laughing and giving each other a hard time - they are staying at a hotel in Najaf city and say that it is safe outside the secure airport area. Sorry guys, we have to finish the work today - we will be flying back out to the UAE tonight.

I work with the team at the shelter on the airfield while Richard flies above us in the Antonov, radioing adjustments down to us. The team in the shelter is made up of the old friends I mentioned earlier, local engineers and some Thai engineers. A Thai company has been contracted by the airport to run all ground activities at the airport, excluding security. So I get to catch up with my old mates as well as make some new mates and practice my Arabic and (very rusty) Thai languages.We all get on like a house on fire.

By the time early evening comes around, it's obvious that there is more work to do and we decide to change our plan stay the night in Najaf and complete the work tomorrow. I'm excited because we are going to stay in a Hotel in the city but nervous because I've just finished reading a book about the insurgency in a nearby city and it was a hair raising book!

The guys arrange rooms for Richard, me and the aircrew in the most flash hotel in Najaf - the Hotel Aldur. I get nervous about the possible danger, driving through Najaf the options are: kidnapping(criminals/insurgents), random shooting/bombing. Everyone has been saying all day that the security situation here is very good and Najaf is quiet these days. I reserve my judgement...

Hotel is a little run down, staff and service like Fawlty Towers, will improve I'm sure!
The Hotel Aldur turns out to be the best hotel in Najaf and opposite the Imam 'Ali Shrine! Wow! I get extra lucky and my room is on that side of the hotel too! It is an upmarket hotel (for Iraq); I take about 30 photos before having a shower, getting some dinner and flaking out.




I wake up early and explore the hotel before dawn - why explore instead of sleeping? A combination of jet-lag, excitement and curiosity. The Hotel Aldur is probably what guidebooks would describe as a "grand old building"; marble everywhere (- walls, floor), a lot of mirrors and chandeliers. It looks quite good, but like everything else in Najaf, it has been run-down. The staff are helpful but are more like Manuel from Fawlty Towers. They mean well, but don't seem to have a clue most of the time.

Eventually, I find myself on the roof of the hotel and have a pretty good view of the shrine, the surrounding city and the Wadi As-Salaam cemetery. Again, I take about 60 photos. During the insurgency, Moqtada Al-Saada, a Shi'ite cleric and leader of the Mehdi Army, barricaded himself in the Imam 'Ali shrine and his army surrounded the shrine to protect him against attack by coalition forces. There was a stand-off that lasted for months - I had read that because the stand-off was so long, the defenders prepared themselves very well against attack. On the front edge of the roof, I find a section of the roof that looks, to my eye, like a fortified position. The area is reinforced (and covered) with big steel girders and offers a brilliant view of the mosque and one of the main roads leading to the mosque. It is an ideal spot for a defensive position or an observation post. At Dawn however, it is a great spot to view the shrine and take a stack of photos. Sunlight glinting on on golden minarets and domes. The vastness of the Wadi As-Salaam - literally, a city of the dead.

We drive through Najaf after a quick breakfast. It's surprisingly normal; quiet, run-down - the streets are pot-holed, the buildings need maintenance; People are going about their business as they would in any city, although it does look 30 years behind the times. Najaf looks like a fascinating city, I would love to explore, poke around and take some photos but I'm brought back to earth when I'm told that although there is no insurgency in Najaf any longer and, from what I can tell, not too many coalition forces either; the main risk in Najaf is due to poverty - criminals have taken to kidnapping to raise money. Good one, not a pleasant thought really.

We eventually get through several layers of security and checks and back to our aircraft - time to start working again. All of the guys at the equipment shelter are in good form - the gear has been adjusted and is working well and, even better, everybody is in a great mood and keen for a joke and a laugh. What a great morning, we work fast because our time is running out and finally we're done - A few more photos, handshakes and good-byes all round and then back into the Antonov and before we know it, we're airborne and gently rising up above the nearby river and green fields. We are heading back to Fujairah in the United Arab Emirates and then home, via an overnight Singapore!
**Note: This entry was written in mid-November 2008 but I was a bit too burned-out to put it together with some pictures to publish. My apologies to everyone who wondered where I got to.
Happy New Year !

Dale / BoriS